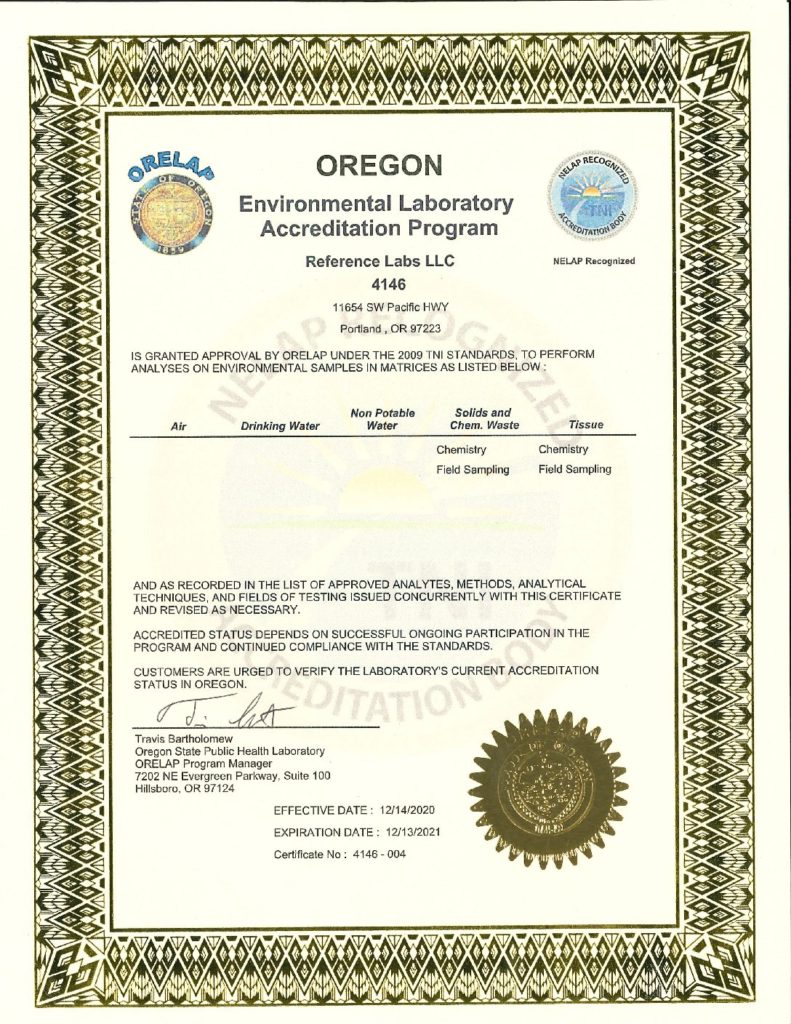 ORELAP ACCREDITED COMPLIANT PACKAGES
Flower/Trim:$300
(potency, moisture, pesticides & water activity)
Concentrate/Extract: $350
(potency, pesticides & residual solvents)

BATCH LEVEL TESTING
MULTI-STRAIN

Potency Per-Strain:$100 Combined Batch potency: $175 for two batches. Every additional batch is $50.

Combined Batch Testing: $250
( moisture, pesticides & water activity)
*Multiple strains can be combined into a batch of 15lbs or less.
SAMPLING EVENT

In-Lab:$10 per sample

Local On-Site:$40+$10 per sample
(within 20 miles of Reference labs)

On-Site:Local + 53¢ per mile
(over 20 miles from Reference labs)

INDIVIDUAL TESTS

Potency ( CBDV, CBDa, CBGa, CBG, CBD, THCV, CBN, Δ9-THC, Δ8-THC, CBC, &THCa ):$100
Edible Potency (THCa, Δ9-THC, Δ8-THC, CBDa, CBD, CBN, CBG, CBC):$100
Moisture (stand-alone test): $35
Water Activity: $45
Microbials (mold and yeast): $50
Pesticide: $200
Terpenes (stand-alone test): $100
Residual Solvents: $100
HEMP
HEMP SAMPLING ODA

All sampling and testing must be performed by a laboratory licensed by the Oregon Liquor Control Commission (OLCC) under ORS 475B.560 and accredited by the Oregon Health Authority (OHA) pursuant to ORS 475B.565 to sample and test for total tetrahydrocannabinol (THC) content (hereinafter, Laboratory) or the Oregon Department of Agriculture (ODA).
SAMPLING EVENT
Local On-Site: $300 + $50 per sample

TRAVEL COST: $0.56 (56 cents) per mile
Tests and Report
Total THC Potency